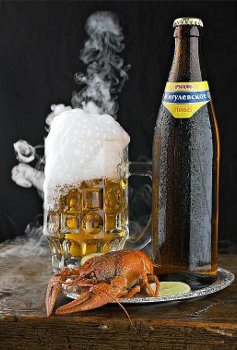 In winter, very important are effective prescriptions for the treatment of colds. An excellent tool for the treatment of sore throat is warm beer. We offer you three different recipes for this drink.
option №1
This beer cocktail has a higher alcohol content than beer because it is composed of rum and gin. First, mix all ingredients except beer, and after adding hot beer. Mixed together two egg yolks, 2 tablespoons sugar, two pinches ground ginger root, 20 ml Roma, 20 ml gin. Separately whet 3 light beer glass, in any case, do not boil. Add beer-mix.
option №2
Mix 250 ml of water, 80-100 g of sugar, half a lemon zest, 2-3 bud of clove, cinnamon bark piece. Heat and boil for one minute. Then strain and add to the filtrate, two bottles of beer. Bring the mixture to near boiling and add 250 ml of milk pre razmyashanay therein 1.5 dining flour spoon (sometimes starch used).
variant №3
Mix 1 liter of beer with 5 buds of clove and a small piece of cinnamon. Warm the mixture is not boiling, then drain and leave on low heat. Grind 4 egg yolk with 200 g sugar, and gradually adding hot beer, thicken steamed. At the same time care must be taken that the mixture does not boil.
Beer for these recipes, you can use a different, and, accordingly, the result will be different. Serve warm beer usually in tall glasses.